REXLINE PRODUCT SUPPLY CAPABILITY
Stationary Auger Sampling System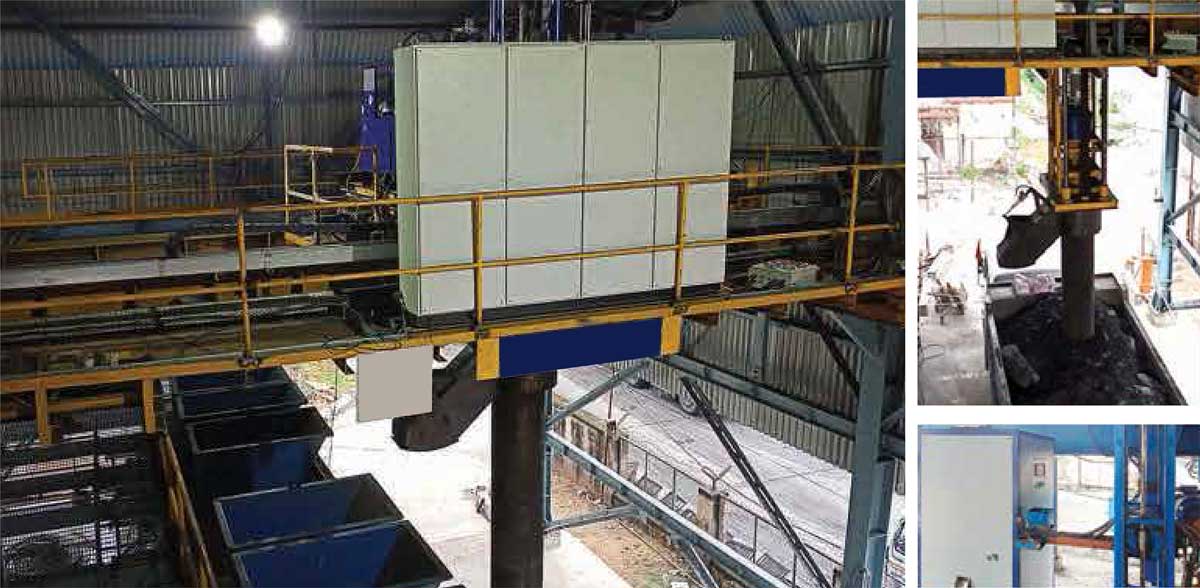 The samples are retrieved using the hydraulic boom with telescopic arm with Auger assembly. Unique design ensures retrieving samples from any point any depth inside the coal trucks or rail wagons using the methods of "Stationery auger sampling system", which ensures fast and representative samples.
Working Principle
Stationery auger system is basically a vertically oriented section of screw method which rotates within a particular pipe. The bottom section will have a wear resistant cutting tip that helps the subject gets loosens and can be collected in that cylindrical hollow section and sampled. Materials then travels upto the Auger Spool until the desired quantity gets collected. If the full auger increment has to be collected, the collected samples will be discharged. If the auger increment is to be split, the material passes from the top of the Auger tube and through a fixed splitter where the rejection portion falls back in to the Truck Or Rail wagon.
Once the Auger increment being collected in the Spool, the auger is maneuvered to a sample bin. There could be multiple bins for collection of designated samples which again can be sent for further subsequent sample processing with the help of primary conveyor, primary crusher for size reduction and may be for secondary conveying with further crushing with rejection handling and sample packaging in small quantity for Laboratory processing. Drawn sample can be packed in a auto-operated packing machine. Sample can be packed in a tamper proof pouch with a barcode to avoid human intervention and futher tracking.
Application of Stationery Auger Sampling System :
Stationery Auger sampling system are incorporated into a wide variety of applications but are most frequently used for Truck beds, Rail wagons , open top shipping containers. Bulk materials that are frequently handled includes coal, coke, crushed ores, manganese ores , pallets ,Coal Tar etc.
Benefits of Stationery Auger Sampling:
Multiple Auger size options are available to cover the range of common particle sizes
Full and split auger designs are available based on the amount of sample to be drawn
Stationery sampling unit available with complete solutions includes material handling/complete sample preparation OR semi portable sampling station could be a
Gantry type auger movement ( Long travel and cross travel )ensures multiple point
Customized system design based up on customer
| | | |
| --- | --- | --- |
| Model | Railway Wagon Sampler | Truck Sampler |
| Type | Wagon sampler Bridge type | Truck sampler of bridge type |
| Power | 40-70kw | 40-70kw |
| Single Point Sampling Time | 5min( ± 2 Min) | 5min(± 2 Min) |
| System Design | ≥ 8-10 units/h | ≥ 8-10 units/h |
| Controlling Mode | Auto/Semi-auto/Manual | Auto/Semi-auto/Manual |
Different type of sampling head for bulk material (nominal top size :S 50mm) is as follows: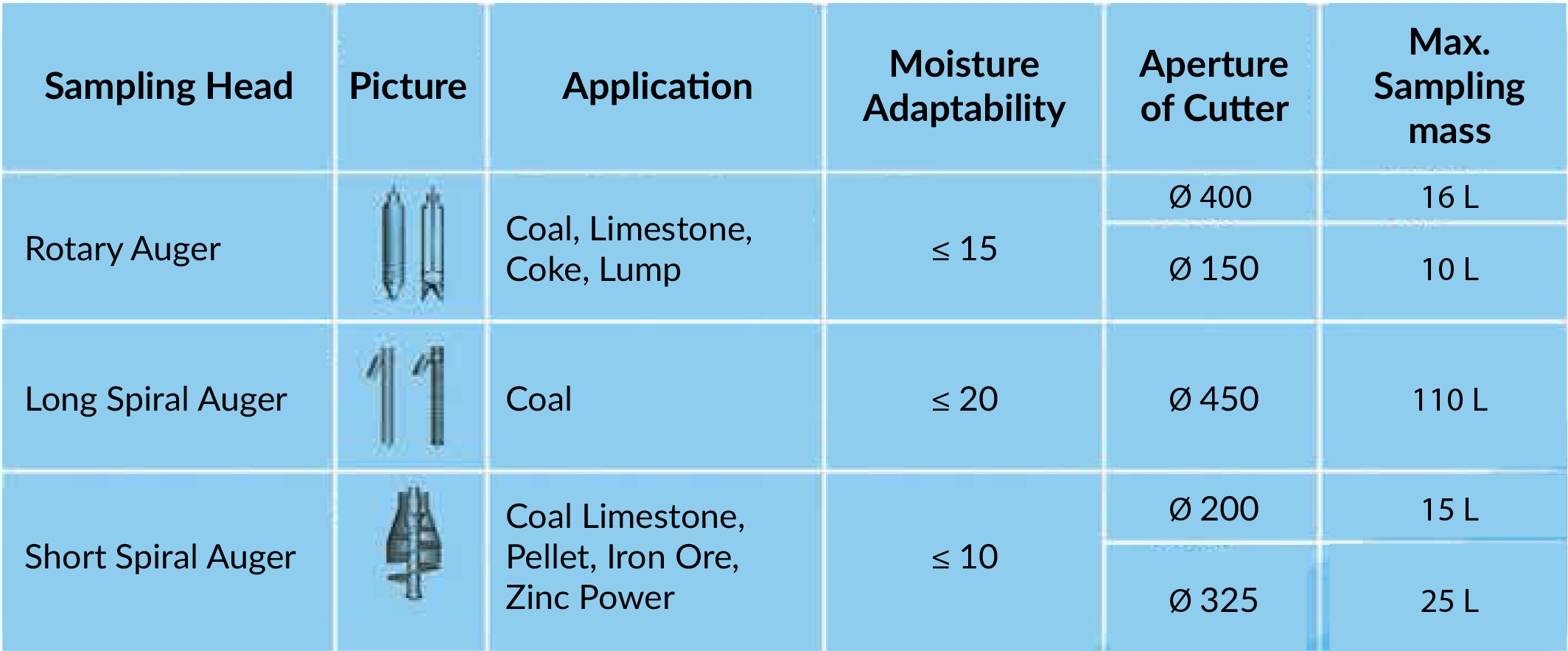 The Mobile Sampling Equipment (MSE) is the latest innovation from Rexline Engineering Indonesia. REI has been working with the schematics and small models and finally got the opportunity to developed the existing model complete with bin management system. Mobile Auger is specially designed and manufactured for the purpose of collecting samples from trucks/wagons for representative testing & the quality of any mineral by using a mechanized Auger. In Mobile Auger, dimension of the mechanized Auger have been designed as per IS-436 (Part-I/ Section-I) standards,and may be customized. The equipment is mounted on a hydraulically operated retractable arm. It can be raised above the rail wagon and then lowered to collect the designated sample. The rotary motion of the Auger enables it to go down in the heap up to the desired depth and pick up the sample as per need. The MA's motor is reversed and the sample is collected in the desired bin. This complete assembly is mounted on a mobile unit that can easily approach towards the rail-wagon to be sampled.
Basic Description
A true sample of a truck, railcar, open top shipping containers, or any other bin type of containers of coal or any minerals can only be obtained prior to unloading. Once it is unloaded, the individual load mixes with other coals, or minerals and loses its specific characteristics. This type of sample collecting device is one of the modern solution of sample collection at the entry point of Truck or Rail wagon, Auger is mounted on a vehicle and can be moved towards the truck and wagon to collect desired sample
Mobile Auger: with only Collection and storage of sample:
Here the collected sample will be stored in a separate collection hopper fixed at customer's sample collection room.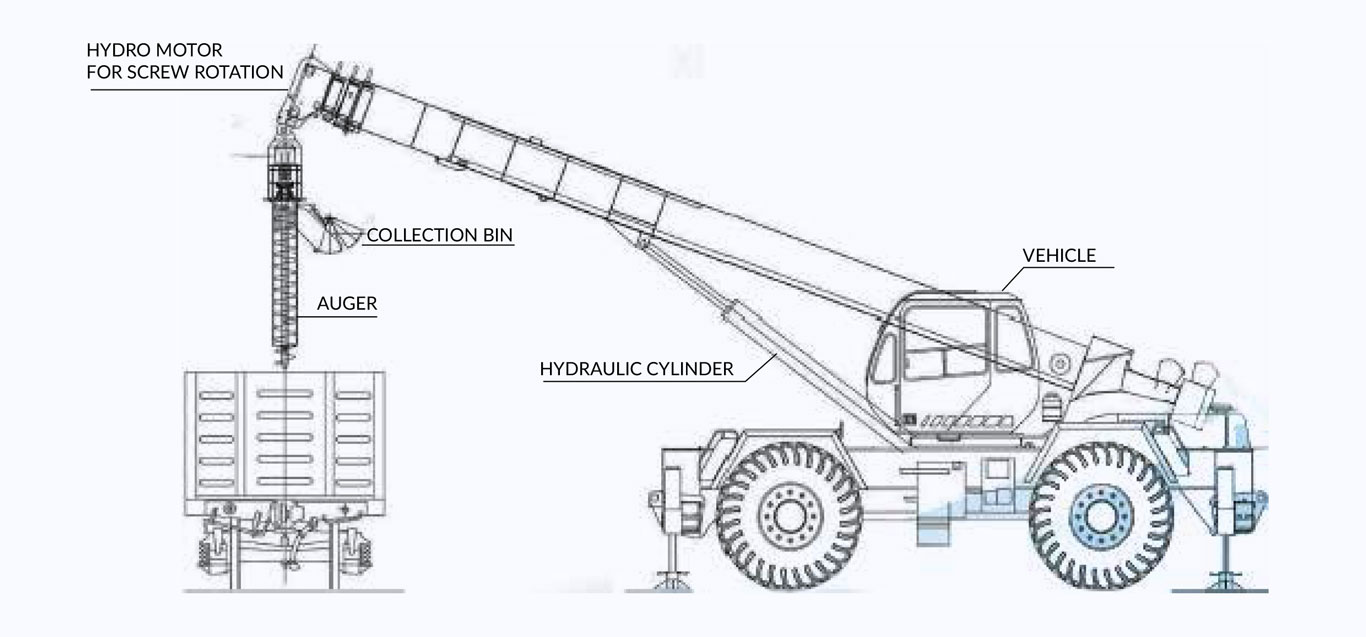 Mobile Auger with sample preparation system.
This system consist of mobile auger with Collection hopper, Crusher, Belt feeder, Sample Divider, Bottle collector etc. All the equipment other than auger will be installed in a covered container. Here sample will be collected to a storage hopper then it will be discharged to a crusher, the sample will go to a belt feeder through divider it will divided one will go to sample collection bottle through chute and another will go to rejection bin.
Advantages
Rugged design.
Sample extraction from the full material depth.
Works with a range of mineral qualities including wet or dry material.
Short sample extraction cycle.
Automatic operation with one supervisor only.
Operator does not have to leave the cabin to retrieve samples.
Can be quickly relocated to another site if needed.
Reject falls immediately back into truck or railcar being sampled.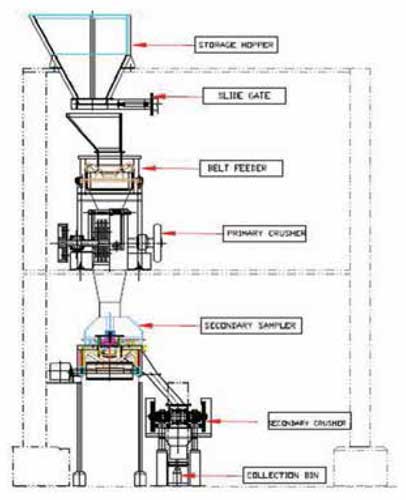 | | |
| --- | --- |
| Sampled Material | Coal, Coke, Lignite, Limestone, Bauxite, any others Minerals |
| Size of Sample | 0-250mm |
| Final Sample Size | As per requirement only possible for 2 stage system |
| Quantity of Sample | As per regulation & Customers requirement |
| No of Final Sample Container | 4-12 Nos, as per requirement |
| Overall Dimension | 2.5mtr * 7 mtr * 6mtr (w*l*h) |
| Auger Diameter | Max 500mm |
| Boom Length | Max 7mtr |
| Auger Speed | 45 to 120rpm |
| Operating Media | Through Hydraulic system |
| Environmental Protection of Auger Control Panel | IP 54 |
| Working Temperature | -400 °C to 550 °C |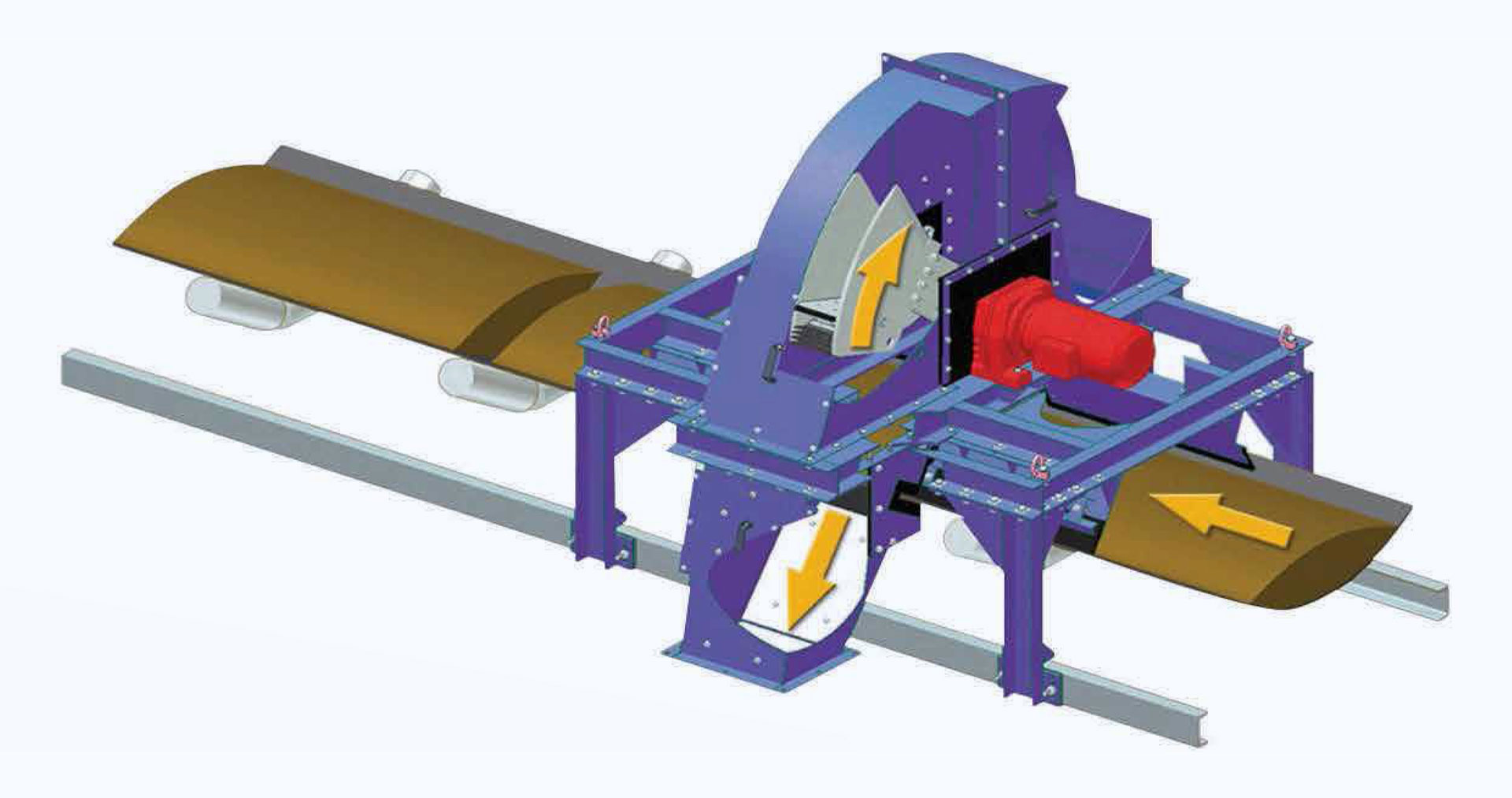 Benefits: 
Cost-effective sampling solution.
Easier to install than other sampling equipment.
Incorporates the belt contouring system for correct sample extraction.
Multiple duty class designs are avail able, including standard-duty, heavy-duty, and extreme-duty.
Designs suitable up to 10,000 tph are available.
Standard electro-mechanical drives and brakes with other heavy-duty drive and braking options are available.
Multiple access ports to inspect and maintain all working components.
Robust design intended for long-term reliability in harsh applications.
Basic Features
Can be installed for sampling of coal, coke, copper, precious metals, salt, sand, stone, gravel, iron ore, and other bulk materials,
Idler trough angles of between 20° to 45° .
Suits belts from 450 mm to 2500 mm
Suit upto belt speed of 6mtr/sec.
Durable stainless or Mn steel sample cutter scoop
Computer generated design models in Inventor for correct
New skew cutter designs to reduce material disturbance and eliminate
PLC / Timer based control panel to operate the equipment automatic/ Semi-automatically.
Model of Cross belt Sampler :
Belt Size
Touching ngle
Power Requirement
Model
650 mm
20°
1,5 KW
REI6520
30°
1,5 KW
REI6530
35°
1,5 KW
REI6535
45°
1,5 KW
REI6545
800 mm
20°
3,7 KW
REI8020
30°
3,7 KW
REI8030
35°
3,7 KW
REI8035
45°
3,7 KW
REI8045
1000 mm
20°
5,5 KW
REI10020
30°
5,5 KW
REI10030
35°
5,5 KW
REI10035
45°
5,5 KW
REI10045
1200 mm
20°
7,5 KW
REI12020
30°
7,5 KW
REI12030
35°
7,5 KW
REI12035
45°
7,5 KW
REI12045
1400 mm
20°
7,5 KW
REI14020
30°
7,5 KW
REI14030
35°
7,5 KW
REI14035
45°
7,5 KW
REI14045
1600 mm
20°
9,5 KW
REI16020
30°
9,5 KW
REI16030
35°
9,5 KW
REI16035
45°
9,5 KW
REI16045
1800 mm
20°
11 KW
REI18020
30°
11 KW
REI18030
35°
11 KW
REI18035
45°
11 KW
REI18045
2000 mm
20°
11 KW
REI20020
30°
11 KW
REI20030
35°
11 KW
REI20035
45°
11 KW
REI20045
Conventional Cross Belt Sampler.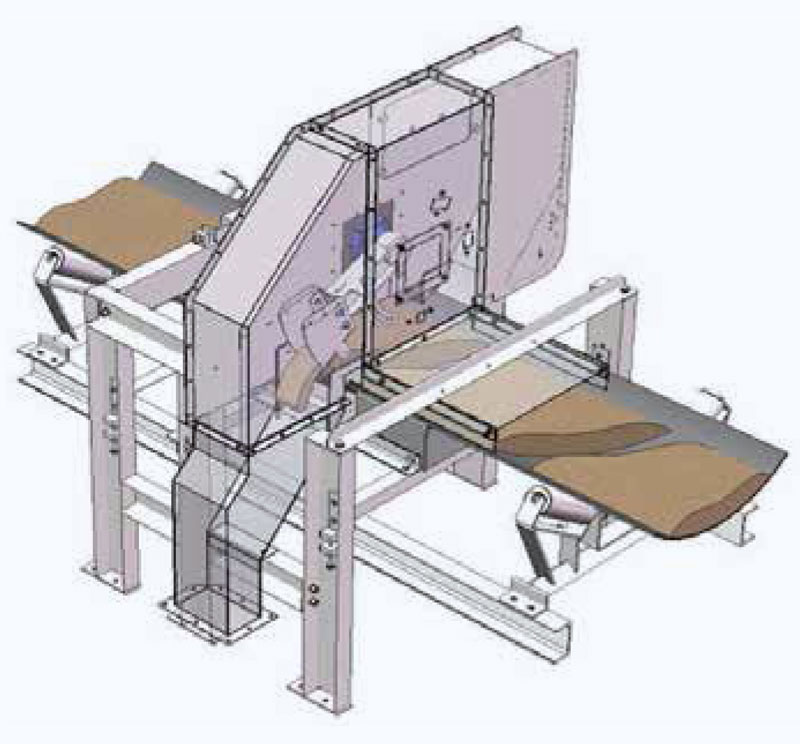 The Rexline Engineering Indonesia Conventional Cross Stream Sampler Is custom designed to be an Integral part of the main conveyor head chute which meets the client's specific requirements. The Cross Stream sampler is typically installed in new applications where large primary sample increments are required or space limitations exist prohibiting the installation of a Rotary Sweep Sampler along the conveyor. The REE Cross Stream Sampler is available with either an electro-mechanical drive mechanism or hydraulic/ pneumatic drive mechanism.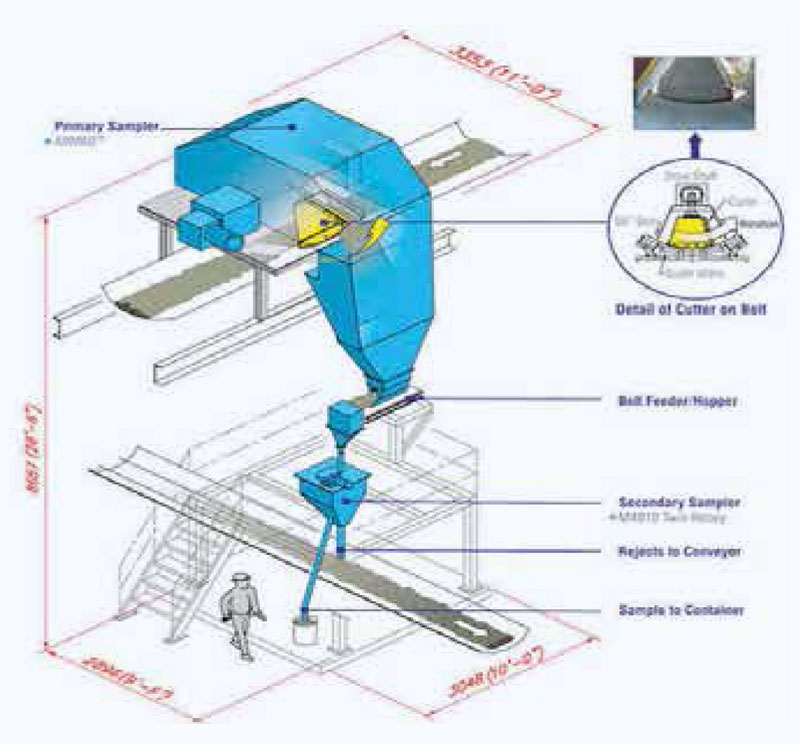 The 2-Stage Sampling System ls the most common system arrangement. This arrangement includes a sealed primary sample receiving chute, primary belt feeder, sample crusher, secondary sampler, sample collector, and reject handling system (Screw Conveyor, Belt Feeder, or Bucket Elevator) The primary belt feeder feeds the primary sample increments to the sample crusher where the sample increments are typically reduced to a 4-mesh product. The product from the crusher is gravity feed to a Belt feeder where secondary sampler is installed which takes a secondary increment. The secondary increment is also gravity feed and stored in a sample container. The reject handling system returns the reject to the main conveyor for most installations.
3-Stage Sampling System
The 3-Stage Sampling System are also widely known as tertiary sampling system, is typically utilized with the Conventional Cross Stream Sampler which produces a very large primary sample increment and requires an additional stage of processing to reduce the sample to a manageable size. This arrangement includes a sealed primary sample receiving hopper, primary belt feeder, secondary sampler, secondary feeder sample crusher, tertiary sampler, sample collector, and reject handling system.
The primary belt feeder feeds the primary sample increments to the secondary sampler, the secondary sample increments are fed via the secondary feeder to the sample crusher where the sample increments are typically reduced to a 4-mesh product. bucket elevator The product from the crusher is gravity fed to a tertiary sampler which takes a tertiary increment. The tertiary increment is gravity fed to a save sample container. The reject handling system returns the reject from the secondary sampler and tertiary sampler to the main conveyor for.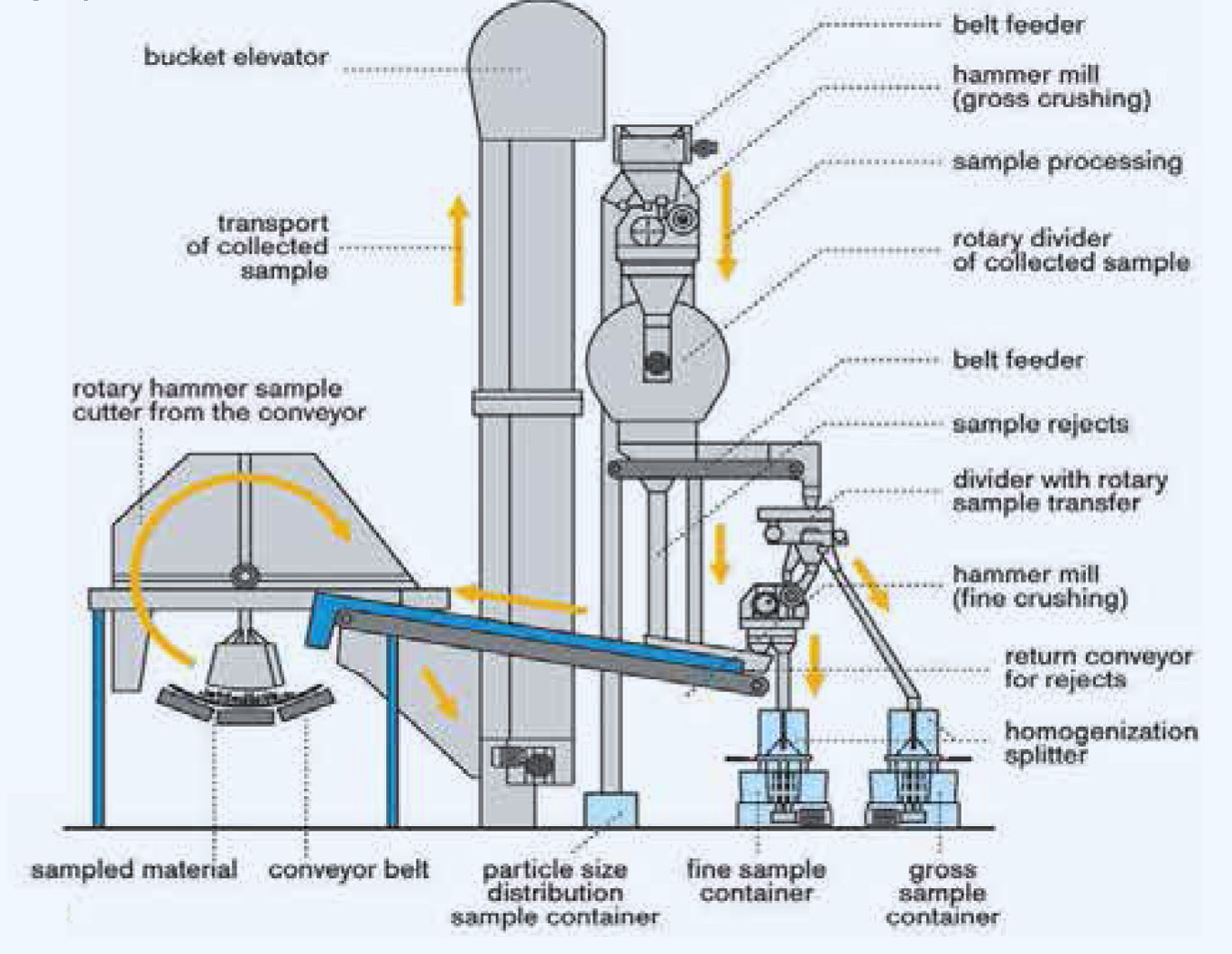 Control Panel For Cross Belt Sampler
Monitoring can be done through D.C.S.
Scoda system will help to monitor recent trend.
System can be operated through PLC.
Barcode can be generate
and stick on sample pouch.

SCREW SAMPLER
The Screw Sampler is designed to create an average sample from continuous extraction of dry non-sticky powdered material from a free falling flow of materials.
The continuously operating sampler is driven by a geared motor, coupled to a transport screw crossing the flow of material. The screw transports the extracted material to a mixing tank, where it is homogenized by mixer wings connected to the through going screw conveyor shaft. The sampler can be delivered with the drive unit installed next to the mixing tank.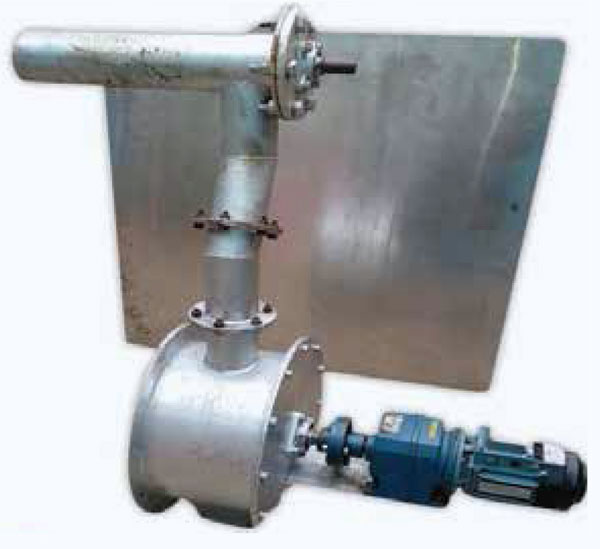 Basic Features
Installation in silos or downpipes possible.
Different diameters for screw samplers available.
Sample quantities, runtimes and pause times individually adjustable thorough a control electrical panel.
Automated or manual sampling method.
Easy-to-dismantle version for simple cleaning.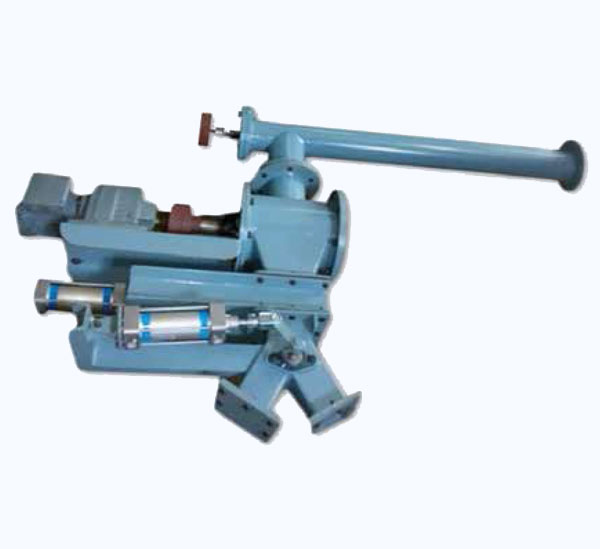 Technical Specification
The sampling screw rotates into the material flow, extracts a representative cross-section from the production flow and transports it into a sample vessel. An adjustable timer determines the sample quantity. Runtimes and pause times between two sampling operations are individually configurable. Before starting a further sampling process, the screw changes to reverse operation for a selfcleaning cycle. The product conveyed during the self-cleaning process is fed back into the production flow. The control of the sampler is normally conducted from a central PLC system but we also provide local control panels with or without a PLC. Downpipe: The sampler isinstalled between two flanges inside the downpipeSilo: The sampler is installed to a nozzle welded to a silo wall.
Benefits :
For contamination-free sampling.
Low-servicing requirement.
Size of the sample can be defined as required.
Immediately after sampling, sample falls into a bag or beaker attached to the discharge connection.
There is no chance of compact due to mixing chamber is there just after screw for abrasive and sticky material.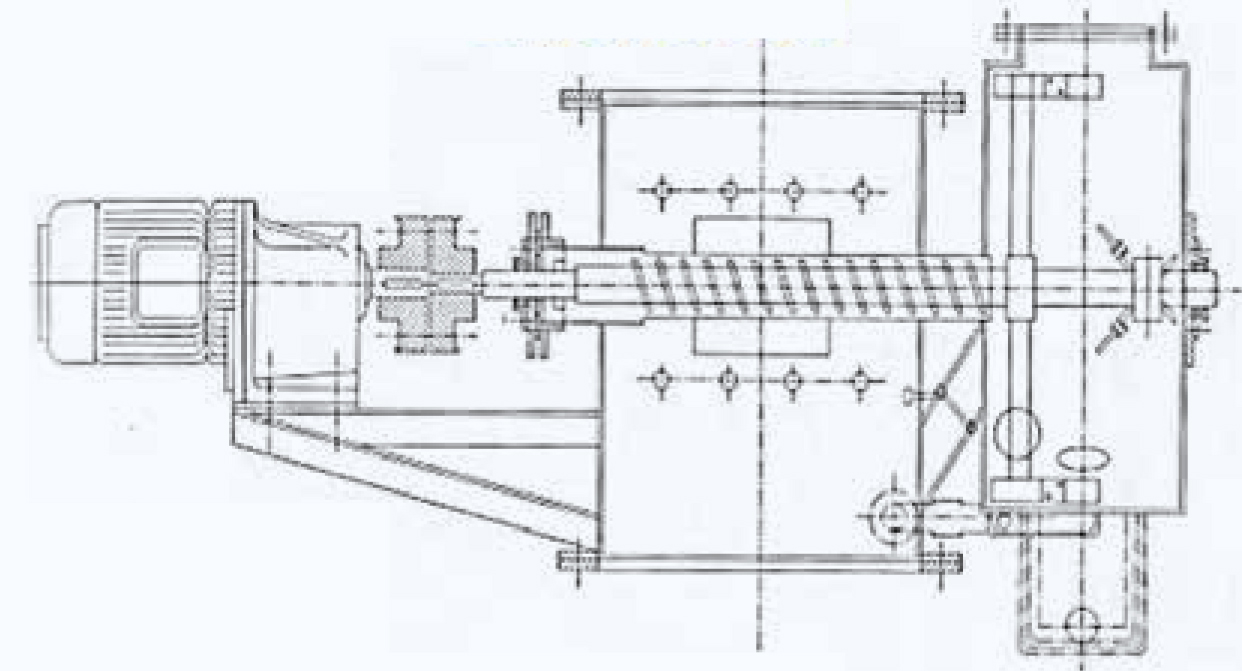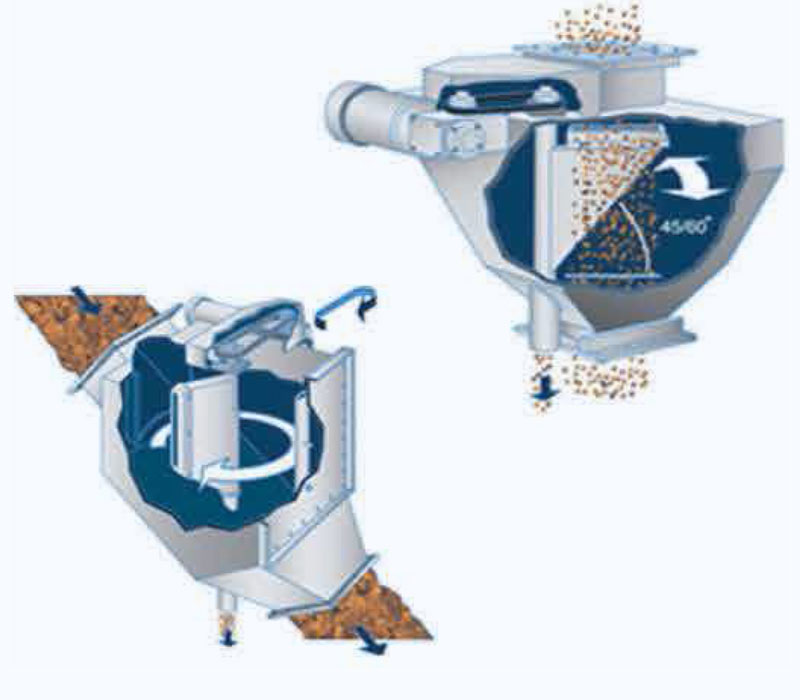 Vezin Sampler
Vezin Sampler is also known as Gravity Feed sampler is designed to collect the sample from free flow of a chute for any type of material.
This type of sampler design requires very little space and collects representative samples from sloped gravity chute areas. When activated, a sample cutter pivots through the product stream, sweeping a complete 360-degree arc, collecting a true cross-cut sample. Sample cutter is parked away from the stream of material and is sealed when not sampling.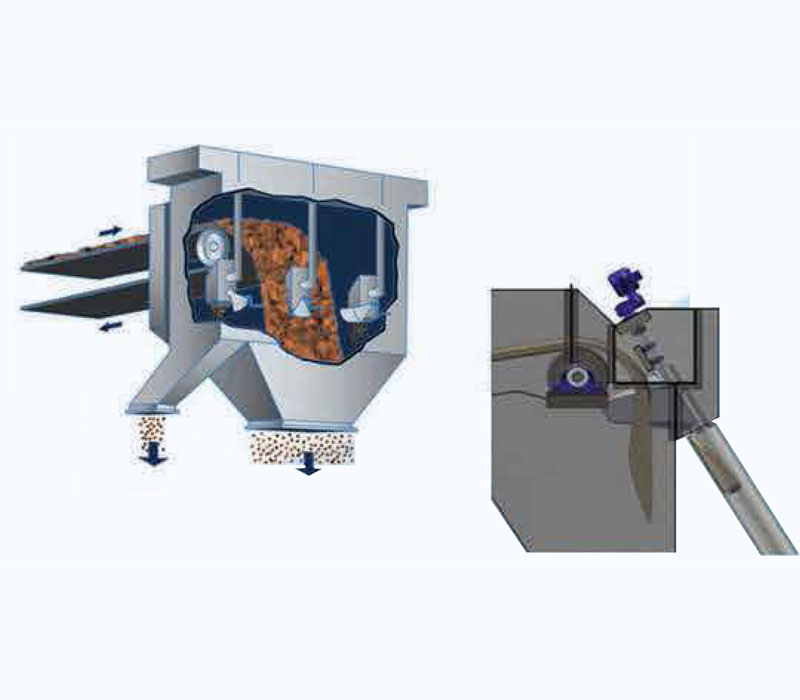 Belt End Sampler
Belt End Sampler used at the discharge point of any conveyor belt to collect the representative sample. General use of this type of sampler is To and Fro type.