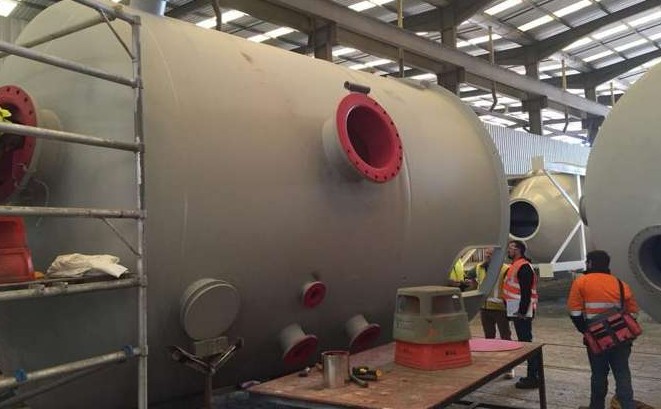 Rexline Premium Cold Lining Tanks
Rexline Engineering Indonesia is globally recognized leader in design, manufacture and installation of Rexline premium wear & corrosion solutions. REXLINE™ lining rubber is a versatile and durable solution for a wide range of corrosion and wear protection applications. Lining rubber is designed primarily to be applied as a lining to protect your equipment from the damaging effects of abrasion and impact forces or chemical attack.
Wear & Abrasion
Wear and Abrasion is the process of wearing down or rubbing away by means of friction
 Wear and Abrasion can also be found in wet and dry service conditions
Excessive wear and abrasion results in substrate failure
Rubber Lining
Dependable & Long Term Protection For Plant Equipment Against Corrosion And Abrasion.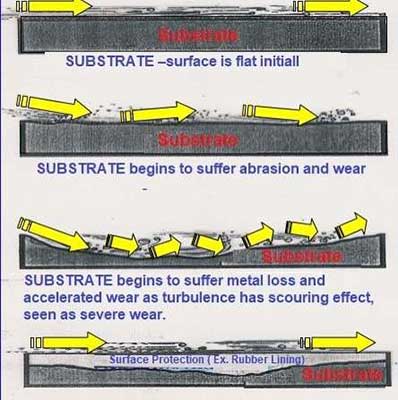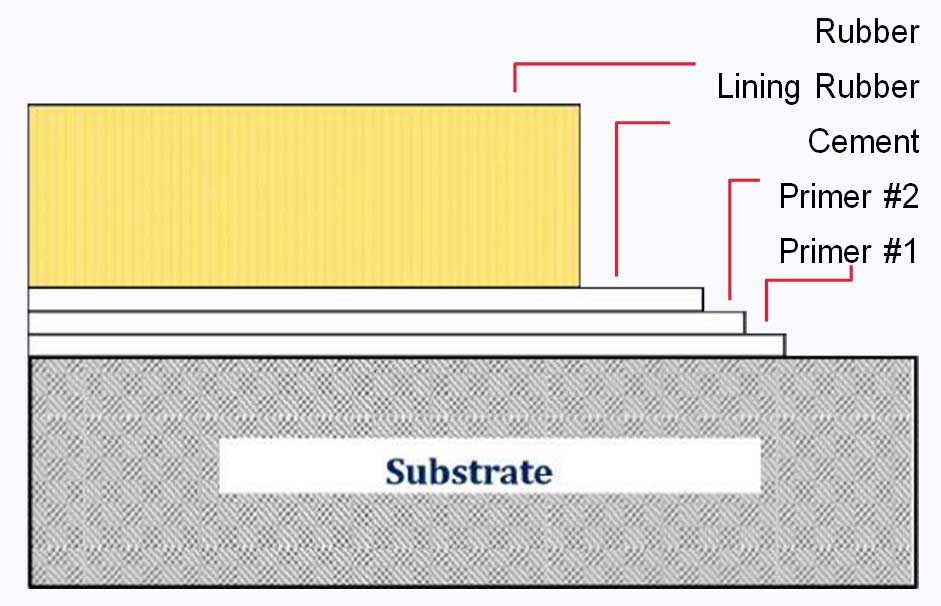 Configuration of Rubber Lining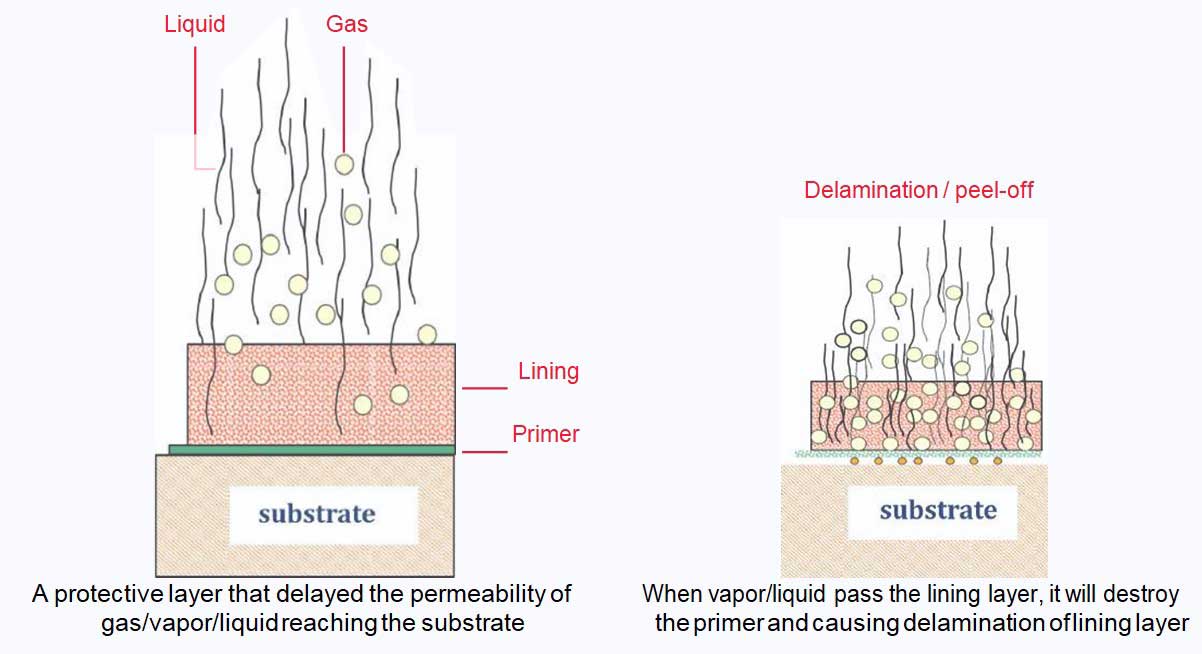 Corrosion Protective Lining
Specification of Rubber
When selecting rubber lining materials, the following physical properties shall be considered :
Tensile strength
Elongation at break
Density
Hardness
Abrasion
Rebound resilience
Tear growth resistance
Sample of Rubber Specification
| | | | | |
| --- | --- | --- | --- | --- |
| 60 IL Properties | Unit | Typical Value | Test Method | Rexline Premium |
| Tensile Strength | Kg/cm2 | 80 | JIS K 6251 | 255 |
| Elongation | % | 300 | JIS K 6251 | 900 |
| Hardness | A type | 59±7 | JIS K 6253 | 38±5 Sh A |
| Bonding Strength | Kg/cm | 5 | JIS K 6256 | 32 |
Sample of Rubber Specification

Type of Rubber Lining Based on Curing System
Hot Lining System
Cold Lining System
Type o Rubber Lining Based on Hardness
Soft Rubber
Hard Rubber/ Ebonite Rubber
Most Popular Type Material of Rubber Lining:
Natural Rubber- NR has good physical properties such as abrasive, tensile strength, tear strength and elongation break. Other that NR has good chemical resistance.
Butyl Rubber- Butyl rubber has Excellent chemical rubber, so butyl rubber suitable for chemical tank and other equipment with high concrentarion chemical.
Chloroprene Rubber- Chloroprene rubber has excellent bonding, so the CR is commonly used for adhesive product. CR suitable for lining sea water equipment because CR has antibacterial sea water.
Hard Rubber- Hard rubber is widely use as protective lining for highly corrosive substance at elevated temperature.
Sand-hard (Soft-hard-soft)- The soft rubber outer layer against abrasion, when chemical permeate the soft rubber layer, it will be stopped by middle layer of hard rubber. The last layer of soft rubber form a strong bonding to the steel and also can take the thermal expansion of the tank.
Rubber Lining Application 
 

Hot Lining System

Cold Lining System

 

PRIMER

Metal Primer Second Primer

 

Metal Primer

RUBBER

Uncure Rubber

Cured Rubber

 

CURRING SYSTEM

 

Autoclave, Exhaust Steam

Lining is cured,

no additional curing is required

 

VISUAL

Visual depend curing, if use exhaust steam possible occur bubble and or rubber compound

 

Smooth visual

FINISHING

Lot of Finishing job depend after curing

A little finishing job

PRODUCTION TIME

Long Time

Fast Time

 

REPAIR

Small Area: Grinding, Rubber Pasta Large Area: Cured Rubber, steam block

 

Grinding , Rubber Pasta

BONDING STRENGTH

Minimum 13 kg/inch, but depend to curing process

Minimum 13 kg inch

 

OPERATIONAL AFTER LINING

 

After finishing, equipment can used

Minimum 5 hours after application, equipment can used

 

SAFETY JOB

When steam process should be cautiously because related with boiler (pressure & heat temperature)

Application with cold lining is very safe

 

PRICE

Material rubber is more cheaper than Cured rubber, but operational and investment more expensive.

Material rubber expensive, but application and investment more cheaper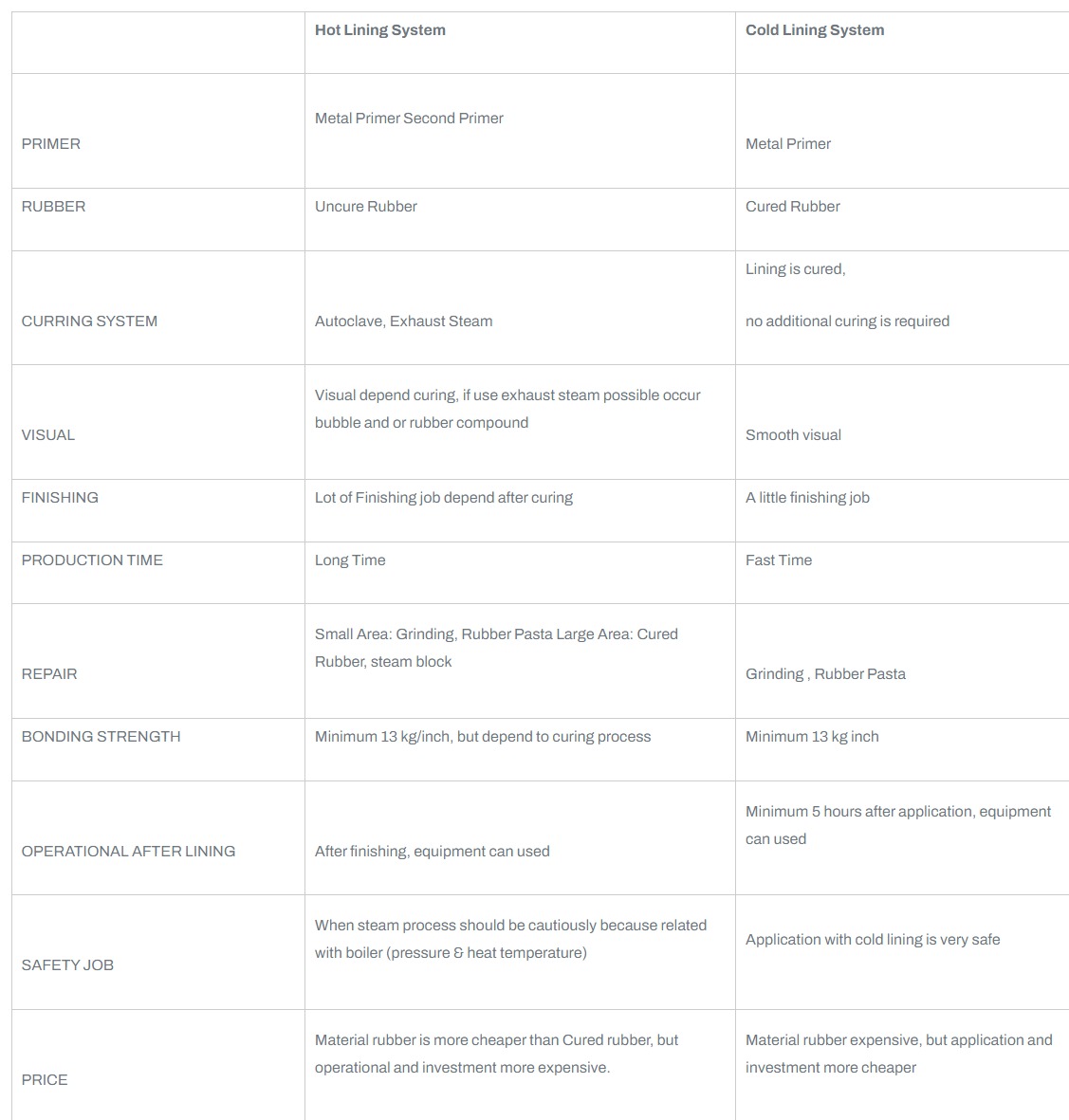 HOT LINING SYSTEM
Activity
Time
Surface Preparation
Based On Standard
Metal Primer
Based On Standard
Second Primer
Depend area
Rubber Lining Application
Based On Standard
Steam

48 – 72 hours with exhaust steam,

 

4-6 hours with autoclave

Finishing
Depend curing process
COLD LINING SYSTEM
Activity
Time
Surface Preparation
Based On Standard
Metal Primer
Based On Standard
Second Primer
Depend area
Rubber Lining Application
Based On Standard
Steam

48 – 72 hours with exhaust steam,

 

4-6 hours with autoclave

Finishing
Depend curing process
Rubber Lining Inspection
HUMIDITY Standard
Max RH 85%
Min Diff Dew Point 3⁰C
The conditions shall be monitored and recorded throughout the application (start from surface preparation till rubber lining application) to maintain bonding quality