The following are the types of foundation construction:
Light Construction
Using a shallow foundation
Type : Foundation sole ( spread footing )
Depth : -1.00 m from the existing elevation
Ground clearance voltage : 50 kg/cm2
Heavy Construction
If possible, use a mini pile foundation with dimensions and depth according to field
If it is not possible, you can use a concrete bored pile
Construction of steel framed structures includes construction of its foundations, columns, beams and floors systems. Construction phases of structural steel frame are discussed.
Construction of Steel Frame Structural Elements
Steel frame structure construction procedures are as follow:
Construction of steel frame structure foundation
Steel column construction
Erection of steel beams
Floor systems used in the steel frame structure construction
Construction of Steel Frame Structure Foundation
Steel framed structure construction begins with the construction of its foundation. Generally, the types of foundation required for the given structure is based on the soil bearing capacity. Soil investigation including surface and subsurface exploration is used to assess the condition of soil on which steel frame structure rests. For example, when moderate or low loads are imposed, then it is advised to use reinforced concrete bearing pads or strip foundation. These foundation types transfer loads to soil capable of supporting transferred loads.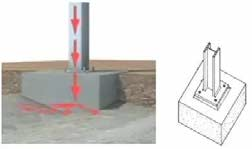 Reinforced Concrete Bearing Pad Foundation for Steel Frame Structure

Pile foundation to transfer loads of steel frame structure though low soil bearing capacity of stiff soil with adequate bearing capacity
If the strength of soil is poor and the imposed load is large, then it is recommended to consider pile foundation. The pile foundation would transfer the load of the structure to the stiff soil.
Steel Column Construction
The next step of steel frame construction is the placement of steel columns. The section of the steel is specified based on the load imposed. There are various sizes of steel column section to choose and these steel columns are commonly produced in advance. The most significant point in column installation is the connection between foundation and column and splices between columns. Regarding foundation to column joints, base plates are welded to the end of columns. The most desired shape of base plate is square and rectangular shape. Typical details of column to foundation connection is shown in Figure-6. It should be known that, the most desired shape of base plate is rectangular and square shape because such plates provide largest spacing between the bolts which is desirable.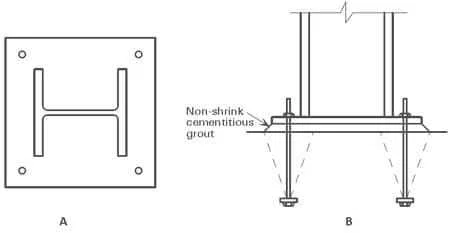 Steel Column to Foundation Details, (A) Top bolt places created in base plate, (B) Side view of column base to foundation
As far as column splices are concern, it is provided in every two or three storey to ease erection process in addition to simplify steel column production and deliveries. The distance between floor and column splice is about 60cm. When circular steel columns are used, weld connection is used to join both steel columns above and below.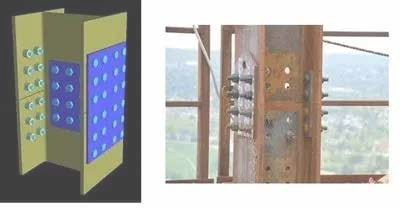 Erection of Steel Beams
Various prefabricated beam sections are available to be used in the construction multi storey steel frame structure. Beams commonly transfer loads from floors and roof to the columns. Steel beam members can span up to 18m, but the most usual range of steel beam spans rang from 3m to 9m. While steel beams are erected, column to beam connection and beam to beam connections are encountered. There are different types of column to beam connection which are selected based on the type of loads imposed on the column to beam joint. For example, if the joint is subjected to vertical loads only, then simple connections are used. Flexible end plate, fin plate and double angle cleat are examples of simple connections.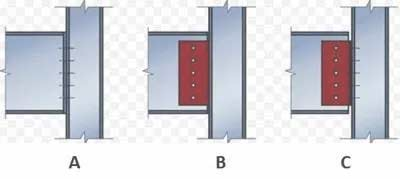 Different types of column to beam connection suitable for the case where vertical loads are applied solely:
(A)Flexible end plate, (B) fin plate, (C) Double angle cleat
If the joint is subjected to both vertical loads (shear force) and torsion forces, then full depth end plate connections and extended end plate connections should be considered as shown in image below.

Full depth and extended end plat connection used when the column to beam connection subjected to both shear and torsion stress
As far as beam to beam connection is concerned, end plate beam to beam connection is used to join secondary steel beams to primary steel beams. Since top flange of secondary beams support floor system, so it must be leveled with top flange of the primary beams. This can be obtained by notching the top flange of the secondary beam as shown in image below (A) n (B).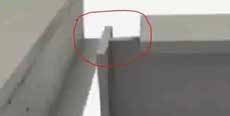 A: Notched Part of Secondary Beam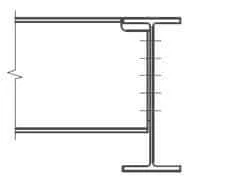 B: End Plate Beam to Beam Connection
Alternatively, projected bracket is welded to the primary beam and then secondary beam is attached without the need for notching secondary steel beams.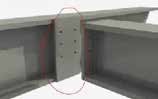 Provision of Bracket Welded to Primary Steel Beams
Floor Systems Used in Steel Frame Structure Construction
There are various types of floor systems which can be used in the steel frame structure construction. Floors are commonly installed as the beams are erected. Not only do the floors systems support vertical applied loads but also they act like diaphragms and resist lateral loads through the use of bracings. Examples of floor systems include Short-span composite beams and slabs with metal decking, Slimdek, Cellular composite beams with slabs and steel decking, Slimflor beams with precast concrete units, Long-span composite beams and slabs with metal decking, Composite beams with precast concrete units and Non-composite beams with precast concrete units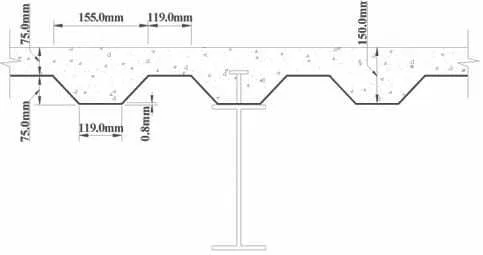 Details of Composite Floors used in Steel Frame Structure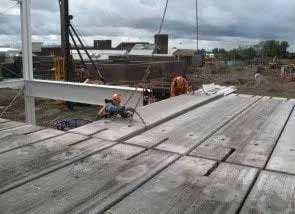 Precast Concrete Slab Placed on Structural Steel Frame
Construction of Bracing and Cladding in Steel Framed Structures
Bracings are used to resist lateral forced imposed on structure and it transfer lateral loads to the columns and then to the foundation.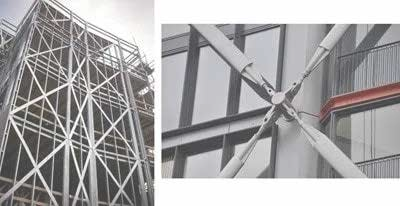 Bracing with Connection Details
Regarding cladding of steel frame structure, various types of cladding such as brick cladding and sheet cladding can be used to protect the inside area of the structure.