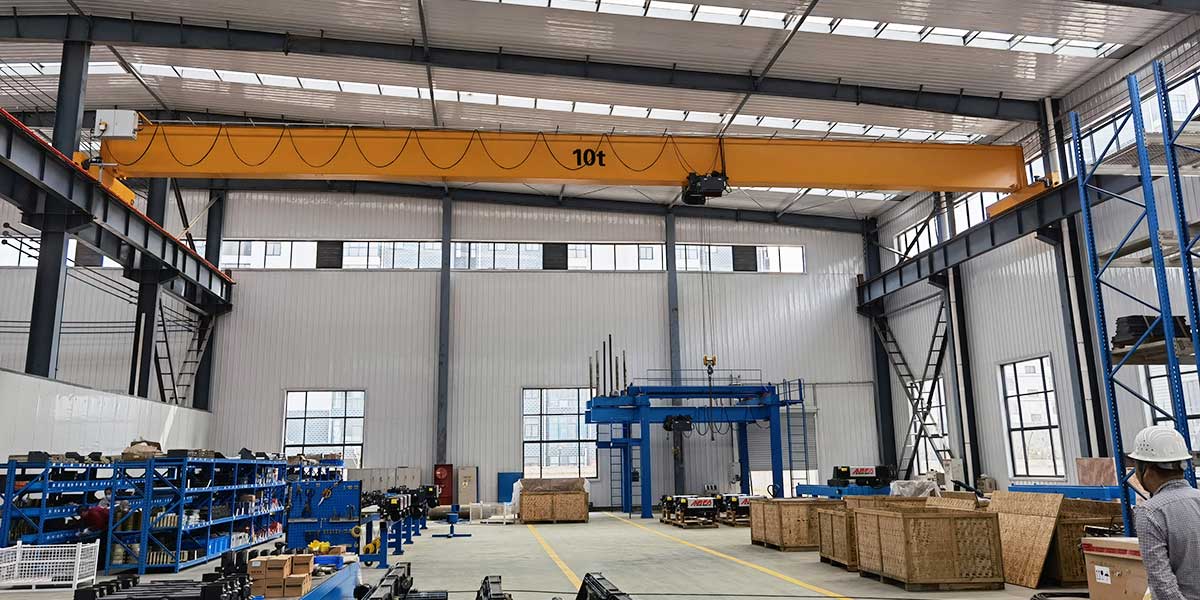 Warehouse overhead crane comes in a number of different shapes and sizes to handle loads of any capacity. It is a safe and reliable industrial tool that is designed to optimize the lifting work in your warehouses and other industrial sites. These cranes can also be custom designed and built to carry extremely large and heavy loads. There are many benefits of employing such overhead bridge crane, such as high efficiency, excellent safety, stable performance and great durability.
Warehouse Crane System
The overhead crane system consists of one or two horizontal beams supported by parallel runways. The hoist or trolley that runs on the bridge girder can be positioned at any point within the rectangle, allowing you to lift and move loads through the entire working areas. The runway beams are mounted to the building columns that allows for horizontal movement of the bridge crane. In short, with these units, the overhead crane in warehouse delivers three types of movement: crane long travel operation, hoist cross travel operation and hoist lifting motion.
The three directions of crane motion can be controlled from the ground by means of a push button pendant system or wireless remote control, or within the cabin that utilizes at least one co-worker on the ground to assist the operation work.
Type of overhead cranes to serve various working situations:
Single girder crane – It is the basic form of overhead lifting system featuring a single This type of crane typically handles loads not more than 25 tons.
Double girder crane – It is engineered for higher capacities, usually going up to 450 The double beam crane also provides greater efficiency and lifting speed than a single girder crane.
Top running crane – It is a standard overhead crane in most projects, which is capable of handling small to extremely large The beam of this crane rides on top of the runway beams.
Underhung crane – As opposite of top running system, the crane is hung below the runway beams which are supported from the building roof.